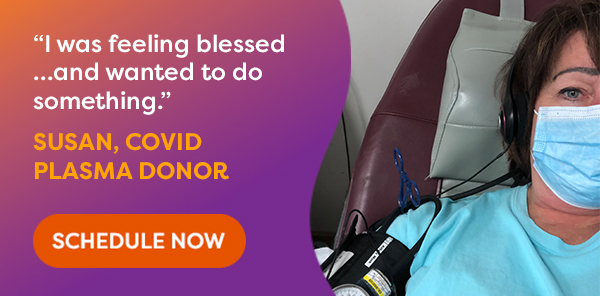 You Can Help COVID-19 Patients with a Blood or Plasma Donation
Susan has made 10 convalescent plasma donations since recovering from COVID-19 this summer, and intends to keep donating as long as she has COVID-19 antibodies. It's her way of helping others fighting the virus, who may not be as lucky as her family.
"I was feeling blessed the virus left us fairly unscathed, and wanted to do something. I heard that convalescent plasma was a promising treatment," Susan said. She has asthma and her husband, Dave, is a recent transplant recipient. Dave had to be briefly hospitalized, but both experienced relatively mild symptoms. "It could have been a whole lot worse for us. This made me stop and think that if I could help some of these really sick patients, that's what I was meant to do."
Your
blood donation
could help COVID-19 patients
because we're testing all blood donations for COVID-19 antibodies. If you had the virus but no symptoms, you may have the antibodies and not know it. If your blood tests positive for antibodies, we'll let you know and your plasma could go to a COVID-19 patient. The results could put you on track to donate convalescent plasma consistently.
If your blood test is negative for COVID-19 antibodies, your blood donations are still urgently needed for patients undergoing surgery, cancer therapy and other medical treatments.

"When you can be hooked up to a machine for only an hour and help a couple of patients, why wouldn't you do it?" Susan said about her multiple convalescent plasma donations. "Just knowing I'm helping someone is truly all the thanks I need."
Convalescent plasma
—plasma from recovered COVID-19 patients that contains COVID-19 antibodies—is one of the few treatment options for COVID-19 patients. On average, 1 out of 4 hospitalized COVID-19 patients receives convalescent plasma.
There is an emergency need for convalescent plasma right now.
If your workplace or organization would like to host a blood drive, please
contact us
.
No location? No problem–you can host a virtual blood drive.
If your blood tests positive for antibodies, your plasma could go to a COVID-19 patient.
Important reward points announcement
Vitalant is suspending reward points for whole blood donations due to the financial impact of the pandemic. Power Red/platelet/plasma donors will continue to earn points. Thank you for saving lives with your blood donations.





For further information contact Adams County Health Department at (509) 488-2031.


2019 Novel Coronavirus Outbreak (COVID-19)

On January 21, 2020, the Centers for Disease Control and Prevention (CDC) and Washington State Department of Health announced the first case of 2019 Novel Coronavirus (COVID-19) in the United States in Washington State.
The Washington State Department of Health has established a call center to address questions from the public. If you have questions about what is happening in Washington, or how the virus is spread, please call 1-800-525-0127. Phone lines are currently staffed from 6 a.m. to 10 p.m, seven days a week. Please note that this call center can not access COVID-19 testing results. For testing inquiries or results, please contact your health care provider.

Resources for COVID-19